Mikey Franco, Franco Snowshapes Founder and Head Shaper, has worked at Jackson Hole Mountain Resort for 26 years now. When the resort was planning unique ways to celebrate it's 50th Anniversary, it was only fitting they commission Mikey to hand-shape a few special commemorative snowboards. Featuring five one-of-a-kind boards, the Jackson Hole Mountain Resort 50th Anniversary Line gives a nod to the resort's snowboard culture, history of riding styles and range of terrain. Boards include 160 cm and 150 cm locally sourced beetle-kill Whitebark Pine Swallowtails, a '47 Pintail, '56 Big Nose Pintail and a '58 Squaretail. Only one of each special edition 50th anniversary board style was and will ever be created. The boards are exclusivly available for purchase at Hole in the Wall Snowboard Shop in Teton Village, Wyoming.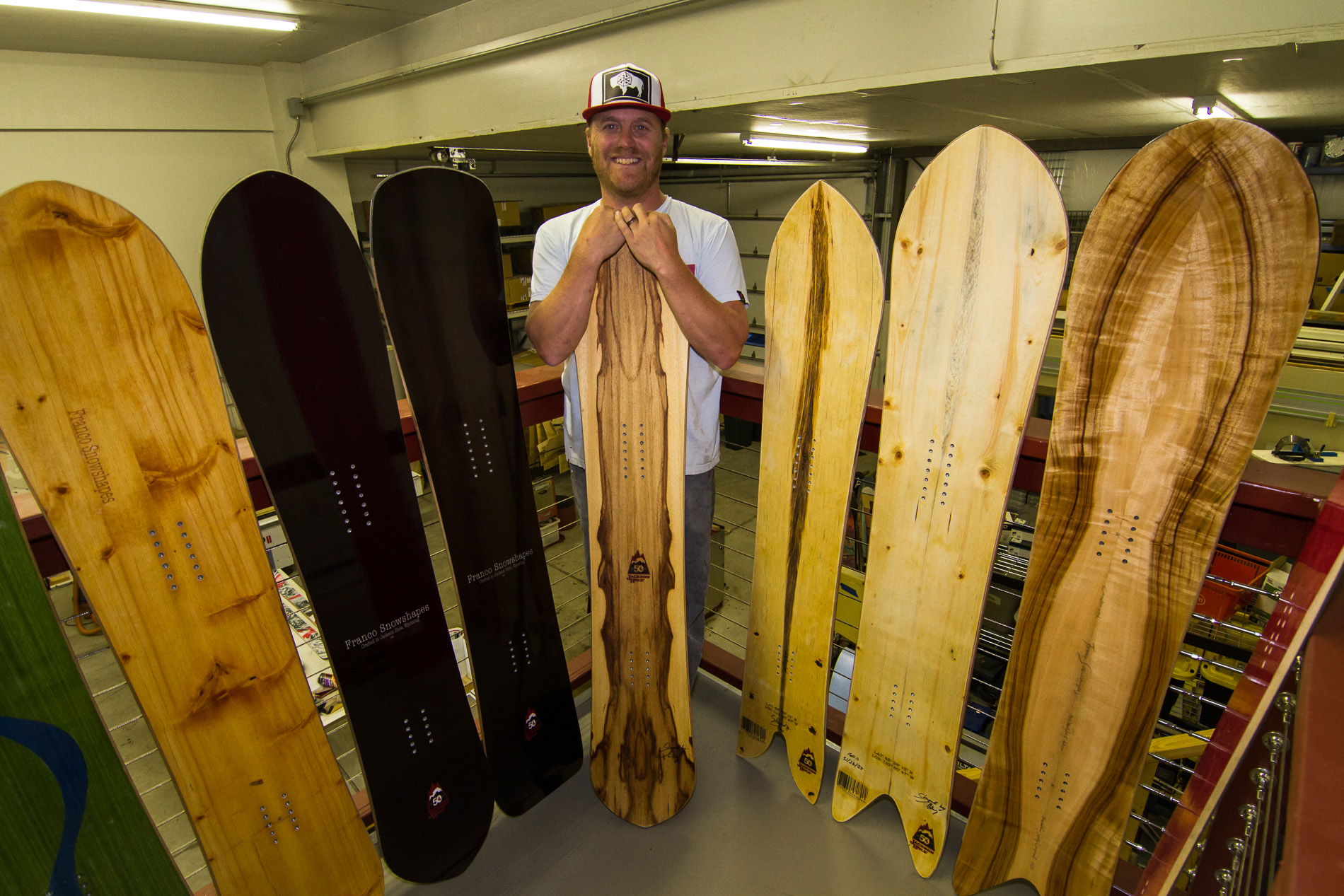 '60 (Men's) + '50 (Women's) Whitebark Pine Swallowtail $2,499
These Swallowtail boards were shaped not only for a surfy riding experience in powder but to allow effortless carving on hardpack. Materials used include eco-friendly bio-resins, basalt fiber and Jackson Hole Mountain Resort sourced beetle-killed Whitebark Pine. Both boards feature an engraved GPS location telling where the Whitebark Pine tree was harvested and the resort's 50th anniversary logo. The '50 Swallowtail is suspected to be one of the only women's specific swallowtail boards available in America.
'47 (Women's) Pintail $1,699
Inspired by the fast and tight Jackson Hole Dick's Ditch contest, this '47 Women's Pintail was made to take charge, straight-line and stomp. With a long running length and little taper the board's body provides plenty of consistent edge to snow contact. This board was built with triaxial fiberglass, carbon stringers and a camphorwood topsheet.
'56 (Men's) Big Nose Pintail $1,299
This Big Nose Pintail is great in powder, on groomers and everything in between. Earning the title as a quiver killer, this board likes to go fast and have fun in any condition and on any terrain. Built with a CVG maple core, triax fiberglass and finished with a translucent gloss black topsheet, the board is as functional as it is stylish. The top sheet features the 50th Anniversary logo and is see through to the core in proper lighting.
'58 (Men's) Square Tail $1,299
The Square Tail is a dynamic carving board with large a nose surface area that excels in mid-deep powder days. Riders that like to bury an edge on perfect corduroy will feel at home on this board. This board is crafted with a CVG maple core, triax glass and a translucent gloss black topsheet featuring the 50th Anniversary logo.